GUEST BEDROOM
You Are Here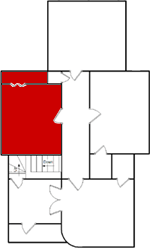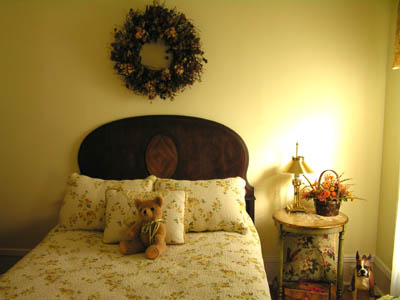 Nicole has done a great job of transforming the Guest Bedroom into a room that could easily be found in a Bed & Breakfast.
In past years, this room was used by James Kendrick, Jr. Then during the first few years of the Mendenhall occupancy, it was the bedroom of Terry Mendenhall. After Terry left to serve in Vietnam, the room was converted and used by Samantha Mendenhall as her Sewing Room. Most recently, it was the bedroom of the Cain's daughter.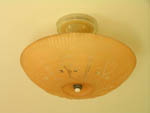 Very little has been done to this room since we moved in. We painted the pink ceiling a flat white, and moved the light fixture (shown on the left) from the Wine Room into the Guest Bedroom.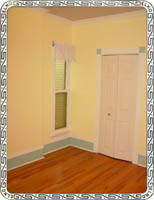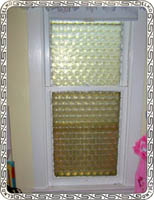 The Cains had green paint that trimmed the room. We took that back to a solid white. The yellow that the Cains had worked well for us, so we left the wall's color and Nicole decorated the room to match. This room also has the old "Coke bottle" windows. It is unknown if there were original to the house, but Olwen Kendrick stated that they were here when her family started renting the house in 1932.
With the addition of some family heirlooms, antiques, and a home built unit, Nicole did wonders using her decorating skills to make this one of the most comfortable rooms in the house.