SITTING ROOM
You Are Here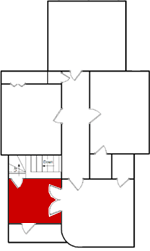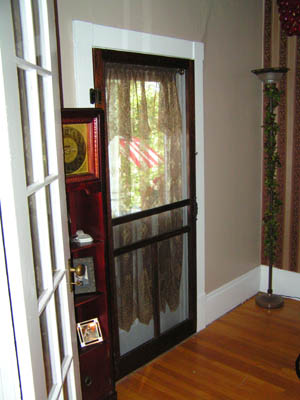 Our Sitting Room was the Bedroom of Joan Kendrick, their youngest daughter. Because her room was the smallest, she got the exclusive use of the Widow's Walk over looking the front yard. Before our ownership, the walls had a horrible pink wallpaper that resembled padding. We painted over this wallpaper and installed a better pattern. Not to worry, we saved some of the pink wallpaper. You will see it when you head up the stairs to the attic. The door to the attic is shown in the bottom right photograph.

The screen door you see here is original to the house. It has been recently been restored with new screening and period hardware. The door that exits out to the Widow's Walk has also had the hardware restored to its former glory.

The fireplace in this room is a stand alone unit. There has never been a fireplace in the Sitting Room. We added this one to give the room some warmth and depth.