WIDOW'S WALK
You Are Here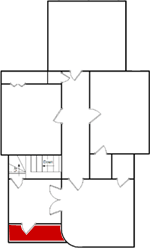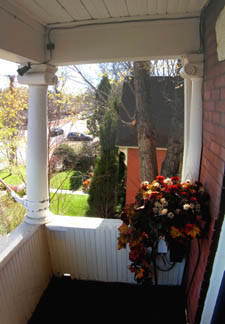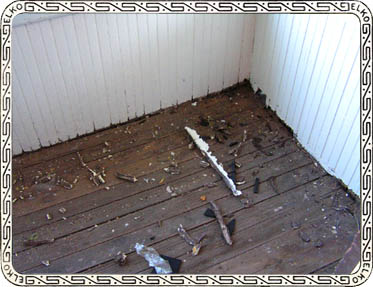 When we took ownership of the house, the flooring of the Widow's Walk was in pretty bad shape. The old outdoor carpet was removed to expose the old sub flooring (right), and a new rubber matting was put and down and the edges sealed. We also added electrical outlets up here to accommodate Christmas lights without the use of an electrical extension cord.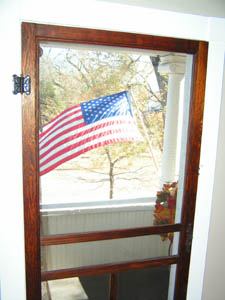 During the Historic Tour, we had a a replica of the 45-star flag that would have flown when the house was built in 1900. The 45-star flag became the Official United States flag on July 4, 1896, with the introduction of the state of Utah. It remained the official flag until July 4, 1908, when Oklahoma joined the Union.
Except on extremely windy days, we fly Old Glory 24/7, thus the reason for the little spot light next to the pillar. This was another reason for adding electrical to this space.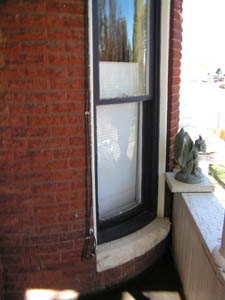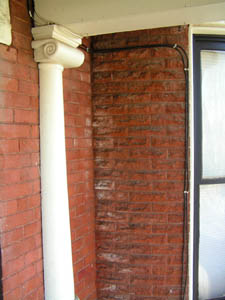 The photo to the right shows the rounded exterior of the house. From the Master Bedroom, we can easily see onto the Widow's Walk. The overlook is also guarded by one of many Gargoyles on the premises.
The door knob installed on this door was designed for an interior door. The hardware was replaced with that designed for an exterior door. As with the rest of the house, a new skeleton key was cut for the lock.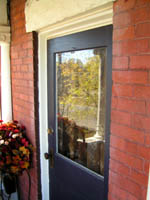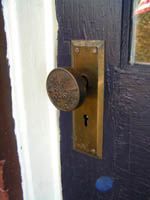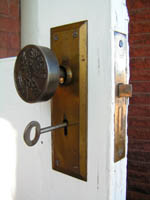 The Widow's Walk also provides for a great view. On July 4th, we like to sit up here and enjoy the fireworks that are launched from the Historic Arkansas Riverwalk of Pueblo.